La Rioja Festival goes far beyond concerts and classical music, it is an event dedicated to discovering and celebrating the rich legacy of one of the most beautiful regions in Spain.
Become a pilgrim of our homeland, come and discover the millenary history of its Camino de Santiago, the origins of the Castilian language in San Millan de la Cogolla, its poet Gonzalo de Berceo, its beech woods and forests, Roman roads and nature trails through extraordinary places filled with magic and poetry, the tradition of its award-winning cuisine always accompanied by good wine and its fabulous wineries.
We invite you to enjoy the richness of each village before and after each concert. That is why we have developed unique and innovative experiences that complement concerts, as well as Concert-Experiences in which music, culture and heritage are combined into a single event.
Subscribe to our newsletter and don't miss any news about the available experiences as they're confirmed.
Registration form Experiences
LAUREL AND SAN JUAN STREET EXPERIENCE
Experience the best gastronomy in Laurel and San Juan streets.
A must during your visit to Logroño is a "pincho" route along Laurel and San Juan streets, where you can enjoy good wine and the best gastronomy.
Between May 5 and 14 you can find La Rioja Festival flags at the most iconic venues, where you will find some of the best tapas.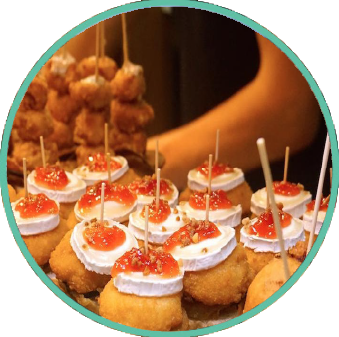 Saturday, May 6
Discover Briones' medieval charm and its remarkable architecture.
The town has been officially declared a Historic-Artistic Site.
With the support of the Briones Municipality, you can enjoy a guided tour of the whole village and all its hidden gems.
10:30 Guided tour
12:30 Concert at the Church of la Asunción
13:45 White wine tasting and gastronomic market where you can enjoy the best local products in the Briones Square.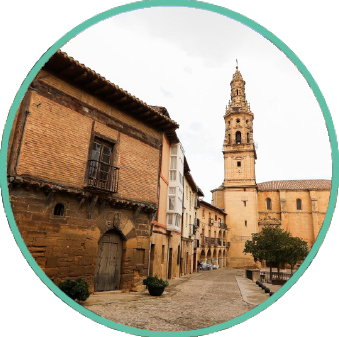 Saturday, May 6
Casalarreina is located in an important wine region, on a plain bathed by the Oja River.
There is a rich architectural heritage, both secular and religious, including the Dominican Convent of La Piedad, the parish church of San Martín, both from the 16th century, as well as a number of palaces of the nobility, most notably the Palacio de los Condestables, the Palacio de Pobes, and the Palacio del Marqués del Puerto.
Sign up for a guided tour to get to know the best of its heritage in a unique way.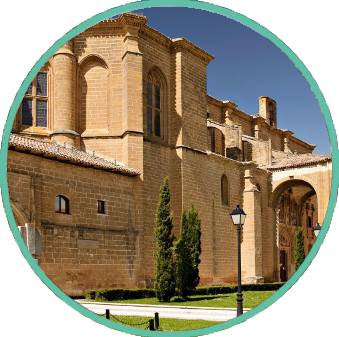 THE "CAMINO" IN LA RIOJA FESTIVAL
Sunday, May 7
Experience the Camino de Santiago with Pablo! The most complete experience of La Rioja Festival is back: we invite you to walk with us the "Camino Real" from Badarán to the Monastery of Yuso, where you will enjoy a mass-concert and the best Rioja wine.
9:30 Arrival in Badarán and breakfast at the Conde Badarán Square
10:00 - 11:45 Walking route from Badarán to the Monastery of Yuso with Pablo Sainz-Villegas and the other members of the La Rioja Festival team (the route has an average length of one hour)
12:30 - 13:45 Musical Mass by organist Alberto Sáez Puente
13:45 - 16:00 Food and wine tasting in the cloister of the Monastery. Return to Badarán by bus (departure every 30 minutes between 14:00 and 16:00).
This route begins at the Conde Badarán Square and, crossing the Cárdenas River through 'Vado de la Reina', passing close to the former Monastery of San Martín de Soto (nowadays the ruins of the Molino de San Martín), continues to Berceo and finally reaches San Millán de la Cogolla, leaving behind the hermitage of Santa Potamia.
Join this unique La Rioja Festival experience for free, we look forward to seeing you!
Experience developed in collaboration with: Fundación San Millán de la Cogolla, Asociación Tierras de San Millán, Ayuntamiento de Badarán, Lácteos Martínez.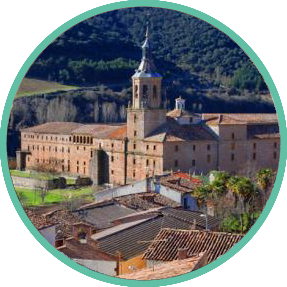 MARQUÉS DE VARGAS EXTENDED EXPERIENCE
Thursday, May 11
Sign up for the extended Cuarteto Quiroga concert experience for an unforgettable afternoon, including a round-trip bus and a guided tour of the wineries before the event.
17:15 Bus departure at Fuente Murrieta
17:45 Guided tour in small groups of 25 people
18:30 Wine tasting
19:00 Cuarteto Quiroga concert
20:30 Return by bus to Logroño
This extended experience option is included free of charge when purchasing a ticket for the Cuarteto Quiroga concert. Registration is required and due to limited capacity for the tour, we encourage attendees to book it well in advance.
Friday, May 12
Get to know Arnedo through La Rioja Festival. Beneath the Cerro de San Miguel lies the most amazing site in the entire Cidacos Valley: the Cueva de los Cien Pilares (Cave of the Hundred Pillars). It dates back to the Middle Ages, when the lack of safety in the valleys forced its inhabitants to seek refuge in safer places. It probably housed the Monastery of San Miguel during the early Middle Ages.
18:00 / 18:30 Tours to the Cueva de los Cien Pilares in small groups of 25 people. Approximate length: 2 hours. The visit includes wine from the Bodega Cooperativa Nuestra Señora de Vico*.
21:00 Concert
22:30 Complete your experience with a musical menu at Sopitas Restaurant (check prices)
If you feel like staying overnight in Arnedo you can do so at the Hotel Victoria (special price with your Festival tickets).
*Limited space, reservation is required.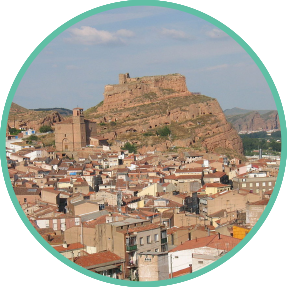 Saturday, May 13
Experience Alfaro's celebrations at La Rioja Festival!
As part of the program of the city's Spring Festival, we invite you to experience a day-long event that begins in the Alfaro Plaza de Toros at 12:30, with a wine tasting followed by a concert by Bessel Brass. You can finish the day with a delicious "paella" and all the other activities organized by the Alfaro Town Hall.
Come and enjoy a day full of great music and entertainment!
*Free activity with no previous registration required.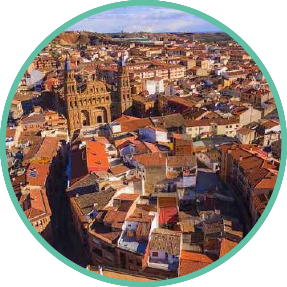 Sunday, May 14
Nájera, the great unknown!
To wrap up the Festival and all the experiences lived in the past weeks, we can't think of a better final stop than Nájera.
With a visit to this beautiful town we move to Upper Rioja and the surroundings of the Najerilla River, marked by the beauty of its landmarks such as El Castillo, Las Siete Cuevas, the Monastery of Santa María La Real, the Convent of Santa Elena and the Church of Santa Cruz.
Join our guided tour.
10:30 Guided tour of the Caves
11:00 Museum visit
11:30 Monasterio de Santa María La Real visit
12:30 Concert by pianist Martín García García in the Doga Theater
Advance registration is required and due to the limited capacity for the visit, it is recommended that attendees book it well in advance.
*The tour may be subject to changes since the Monastery of Santa María la Real is currently undergoing renovation works.